General camp info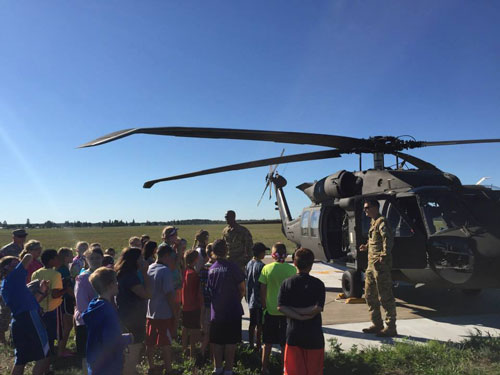 Youth Camp and Teen camp are weeklong camp for kids with a relation to a Minnesota National Guard member or retiree. The camp takes place at the historic Camp Ripley near Little Falls, MN. In addition to all the campers being related to National Guard member all the staff members have a National Guard affiliation. The camp goal is to provide a fun, safe and caring environment where kids can enjoy outdoor activities while learning about patriotism, freedom, and our country. At camp the children are surrounded by other children and adults who understand the joys and challenges of being part of a "Guard family". Kids can talk with other kids or councilors about how deployments affect them and their families. Every day the Camp Director gives the campers a "Word of the Day" for them to think about during the day these words are promoting respect, friendship, honor, integrity, and other patriotic values.
Note the camps are not a "boot camp," Although we do march and sing cadences throughout the week, which are used to promote teamwork and fun.
Sending Mail
Use the address below if you wish to write to your camper. Be sure to use their registered name to make sure they recieve their mail. And, feel free to send mail before camp.
[CAMPER'S NAME]
MN NG YOUTH CAMP
15000 HWY 115
Little Falls, MN 56345
Packing Lists